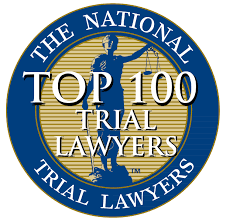 The National Trial Lawyers (NTL) is recognized across the country as being a premier organization that brings together and recognizes some of the most talented trial lawyers from both civil plaintiff and criminal defense cases. The organization allows its members, who are permitted membership through invitation-only, to network, share ideas, continue legal educations, and generally improve their own practices through a combined effort. In turn, the members of the NTL who empower themselves through the benefits of membership also empower their clients, as being a greater attorney leads to greater case results.
It is with much excitement that our team at Politis & Matovina, P.A. is able to announce that both Attorney Michael J. Politis and Attorney Mark A. Matovina have been invited to The National Trial Lawyers: Top 100. While selection to the NTL is already quite prestigious, winning selection to the Top 100 is even rarer. The organization uses a strict multiphase selection process to determine and recognize the legal professionals it considers to be the best of the best in each state or region.
The National Trial Lawyers: Top 100 members are known for having superior:
Leadership qualities
Reputation among peers and clients
Litigation skills and case victories
State bar and national Rule 4-7 compliance
From all of us at Politis & Matovina, P.A., we would like to take this time to thank The National Trial Lawyers for inviting Attorneys Politis and Matovina to such a highly-esteemed group. We also want to extend our thanks to all the clients throughout the years who have relied on us for personal injury representation throughout Daytona Beach, Port Orange, and the surrounding region.
If you would like to know more about The National Trial Lawyers: Top 100, be sure to click here to visit the organization's official website. If you need a trustworthy, compassionate, and tried-and-tested Daytona Beach personal injury lawyer for a claim of your own, do not hesitate to contact our team and schedule a free case evaluation today.